Presents:
The 2023 French Canada Tour
July 29th through August 6th
The tour package includes:
Seven (7) days of riding
Eight (8) nights lodging
Six (6) dinners
Eight (6) breakfasts
Six (6) afternoon 'Happy Hour' get-togethers
Maps and cue sheets
Baggage transfers
The tour will be limited to nine (9) couples.
Total cost per Couple is $4400
The 2023 French Canada Tandem Tour
Join us for a weeklong tandem tour in French Canada, with its spectacular people, foods, and traditions. Ride your tandem in Montreregie and the Eastern Townships, south and east of Montreal. Enjoy the cultural and architectural heritage, riding through hamlets and villages considered the most beautiful in Quebec.
This is a fun tour with lots to see and tandem friendly rides. Mostly flat to rolling riding on quiet country roads. Tour old forts, visit an old cidery and ride past apple orchards. Visit a duck farm and an art glass studio. Come on north and enjoy. Bon Voyage!
---
Arrival Day in St. Jean sur Richelieu, Quebec
Enjoy this very nice and beautifully decorated Auberge Harris for our arrival day and our first day of tandeming. We are located across the street from the Richelieu River on the outskirts of the city of St Jean sur Richelieu. We are only 40 minutes past the US/Canada border on Aut 15 (I87). Come early and take a drive into old Montreal, 45 minutes away by car.
We will have a Happy Hour this evening followed by a group dinner.
---
Day 1 Sunday: St. Jean, Chambly and Chocolate
Rides of 21 to 47 miles
Bike along the river roads, the canal bike path, or further west within sight of the Montreal skyline. Ride to Chambly, and stroll along its historic streets. Chambly is a 'must see' little town. Visit Fort Chambly, a magnificent French fortification located at the Richelieu River rapids.
See FG Chocolatier in Chambly, where you can meet artisans transforming chocolate into something extraordinary. Of all the chocolate shops we have visited, they have the best tasting and best looking chocolates. And great Gelato too!
---
Day 2 Monday: St Jean to St Marc
Rides of 32 to 44 miles
Down the Richelieu to St Marc. Some of the rides get up close and personal with the strange mountains that seem to pop up out of nowhere, the Monteregian hills were formed by magma in the earth's crust over a hot spot. These rocks are very hard and resisted the glaciers.
You can visit Chambly, home to some of the finest chocolates.
Happy hour and group dinner tonight at the Auberge Handfield
---
Day 3 Tuesday: St Marc sur Richelieu
Rides of 17 to 40 miles
You to explore the countryside in the quiet area on the other side of the St. Lawrence River from Montreal. Easy terrain, lots of farms, small ferries to get across the Rue Richelieu.
Or take a day to realx in the pool, use the available Spa Services, just hang out and chill.
Dinner and happy hour again.
---
Day 4 Wednesday: St. Marc sur Richelieu to Stanbridge
Ride of 53 miles
This is an amazing day of riding on mostly flat country roads. Don't miss seeing the imposing twelve sided barn built by the Walbridge family just 2 miles from the rides end. Enjoy this barn, now a museum and national heritage site.
Tonight we stay at the Euro Spa
Happy Hour and group dinner
---
Day 5 Thursday: Stanbridge to Knowlton (Lac Brome)
Rides of 30 or 43 miles
The route takes you through Bromont with its Chocolate Museum and many fine lunch stops. It lets you visit a great winery, Domaine les Brome (285, chemin Brome) for tastings. Ride along quiet, winding river roads and cross another wooden covered bridge.
Arrive at Auberge Knowlton, a historic inn and our home for the next two days.
Happy Hour and group dinner.
---
Day 6 Friday: Lac Brome, Ducks, Mont Echo, & East
Rides of 13 to 60 miles
With three loops and possible extensions, you can combine rides for morning and afternoon fun. Leave enough time to visit to Canard du Lac Brome, where duck is their specialty.
A short ride circles Lac Brome, with it's beautiful eastern shore. Another loop goes south and west to Sutton, a quiet little bike friendly village. A longer loop rides east and north, returning along Lac Brome.
Or take a rest day, walking historic Knowlton. Visit Knowlton's historic museum, which includes a fire tower, 1854 schoolhouse, and a WW1 Fokker aircraft!
---
Day 7 Saturday: Knowlton to St Jean sur Richelieu
Rides of 51, 53 or 58 miles
Most of this ride is through flat countryside, after starting with easy climbs and around Lac Brome then a descent into Bromont . A dedicated bike path can be used to shorten the ending.
Cross a covered bridge while following the river road. Enjoy the atmosphere of Bromont and visit its chocolate museum. Ride along the beautiful shoreline of Lac Brome.
Arrive in St Jean sur Richelieu, with its downtown alive with restaurants and art. The Auberge Harris is on the river and is filled with the art collection of the owner, who has been encouraging biking for over 20 years!

Happy Hour and group dinner.
---
---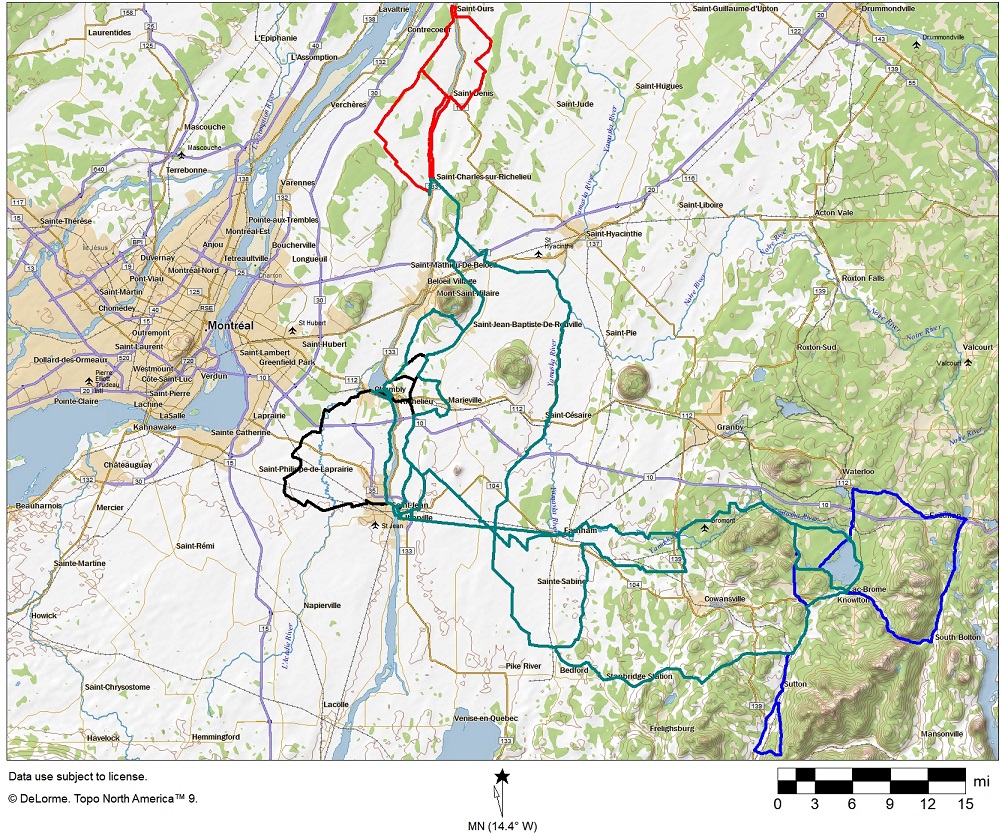 ---
---